Below are immediate eActions you can take to pressure
the US Government from declaring war and retaliation,

1) Tell Congress that the US must respond fairly and
responsibly




2) Tell President Bush to please stop efforts to build and deploy a National Missile Defense system. Redirect funds
toward anti-terrorist efforts while supporting international arms reduction treaties and deep cuts in our nuclear arsenal.



3) Sign the online Peace Petition - Call for Peace
and Justice, Not Revenge


4) Take action to prevent nuclear proliferation:

eActivist.org is an action resource created to activate social change and unite the global community.

Donate cash, or get emergency relief information
Americans are showing their patriotism by flying their flag,at home and at work.

People around the world showed their support by flying their flags at half mast.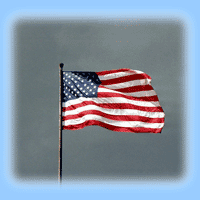 Click the American Flag to print out your own flag