Australian Stuart O'Grady gets to wear the yellow jersey
in the Tour of France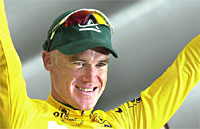 (15/07/2001
Australian cyclist Stuart O'Grady lost the yellow jersey of overall leadership in the Tour de France to Credit Agricole team-mate Jens Voigt of Germany.

O'Grady wore yellow for four days after winning the jersey in stage three.
O'Grady finished 11th, four minutes and 28 seconds behind
Jalabert and 4.17 behind Voigt in the 162.5km stage from
Strasbourg.
The results meant O'Grady dropped to third overall, 4.03 behind Voigt and 2.34 behind Jalabert.

The other Australian in the race, Tour debutante Brad McGee,
finished 18 minutes behind Jalabert today.

Voigt has spent several years racing in Australia over the last decade and is a close friend of O'Grady's, with the pair part of a group of Australian and other foreign riders based in the southern French city of Toulouse.

Voigt was also a member of the Australian Institute of Sport
professional cycling team, which folded in 1997.