It's not Aussie Rules,but Launceston has excellent facilities for soccer,and is played by all ages.

Soccer is also a popular womens and girls sport.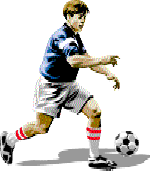 It's only about a year left until kick-off in
Korea/Japan and the hosts are busy
completing the important mission of building 20
stadiums.
Incidentally this is the first time two nations have co-hosted the World Cup.
Check out the stadiums by following the next link.