SHIRLEY TEMPLE born APRIL 23 1928

screen debut "WAR BABIES' 1932

MGM were desperate to sign Shirley for the lead in The wizard of Oz but Fox refused to release her,which allowed Judy Garland to take the role.

Shirley began singing and dancing at 2,she was 3 and a half when she began her film career.

Her mother did her hair in 52 precise pin curls for each movie.

In 1949 she retired from acting and divorced her first Husband alleging mental cruelty.

She married Charles A Black in 1950.

Later she entered politics,in 1969 was appointed representative to the United Nations by President Nixon.

She became US Ambassador to Ghana and then Czechoslavakia.

Her screen appearances in the Depression entranced the world who were looking for some brightness and cheer at such as adisastrous time for the world economy.



JUDY GARLAND born 1922 died 1950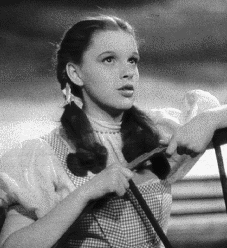 Mother of Liza Minnelli and probably most famous for her role as Dorothy in The Wizard of Oz.
Nicki Webster is the latest actress to play Dorothy,read about Nicki's life elsewhere in CHILDREN OF THE CENTURY.
SABU born JANUARY 27 1924